Dehydrated Averrhoa Bilimbi Bilin Fruit Cucumber Sorrel Tree Ceylon Spices Herbs
$5.00
Well Dehydrated Under Sunlight
Best Smell & Taste
Home Made 100g
Details of the Product
Well Dehydrated by use of sunlight, no machine used
The best smell, Best Taste
Usable period – more than 01 year Well packed before the shipment
The average size of dehydrated slice- 4×0.5 cm
It's a valuable tropical spice as well as an herb
Taste- Its Mildly and Juicy
Non-slated, Dehydrated slices will ship in original condition
Harvest/Supply: Throughout the year
Note : Should be stored in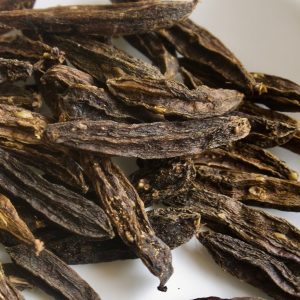 a dry and cool place
More Details of the Product
Nutritional Facts
(This nutritional value is obtained from every 100 g of the fruit)
Calcium – 3.4mg
Phosphorous – 11.1 mg
Riboflavin – 0.026mg
Carotene – 0.035mg
Niacin – 0.302mg
Moisture – 95mg
Iron – 1.01mg
Calcium – 3.5mg
Thiamine – 0.010mg
Ash – 0.30-0.40mg
Fiber – 0.6mg
Health Benefits
Bilimbi offers some of the best health benefits. The fruit is popular worldwide for its sour flavor and is also used as a spice in cooking some of the delicious seasonal dishes.
It is capable enough for eliminating phlegm and reducing heat from the body.

It has anti-inflammatory properties.
It is advised for treating high blood pressure and the treatment is quite effective.
The juice extracted from bilimbi fruit is effective in eliminating a cough.
The fruit is good for treating rheumatism.
It is effective in treating acne.
As a spice in cooking delicious and appetizing curries.
It is used instead of mango for preparing chutney and is preserved.